Janet and Dick Wills Host Sir Patrick Duffy
June 2018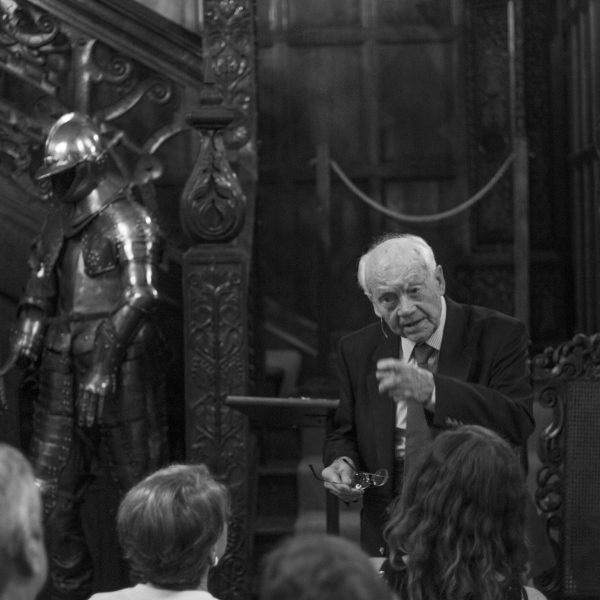 This summer, Janet and Dick were honored to host Sir Patrick Duffy in Richmond — which marks the second time our team has enjoyed a visit from this scholar, statesman, and friend.
As a former member of British Parliament and President of NATO's parliamentary arm, Sir Patrick has enjoyed a long and noteworthy life. Among his achievements, he:
• Helped lead the Cold War's end
• Met privately with Pope John Paul I
• Received both a knighthood from Queen Elizabeth II and a papal knighthood
In the middle of his busy and accomplished career, Sir Patrick even made time to complete the Pilgrimage of El Camino de Santiago. He is wise and insightful, and holds informed perspectives on everything from the global economy to the threats of extremism.
Sir Patrick is also one of Janet's long-time friends and colleagues. They first met more than 25 years ago, when Janet joined the International Business Institute as a guest lecturer. They served together on the program for four years and have remained close for decades.
Today, Sir Patrick is nearing 100 years old, but his passion for knowledge shows no signs of slowing down. During his recent visit, he met with U.S. dignitaries, spoke at two events, and shared his perspectives on the economy and the United States' role in the world order.
The last time Sir Patrick visited Richmond to spend time with our team was just months after 9/11. He met with our clients to share Europe and NATO's view of the rising terrorism threat and potential economic consequences of globalization.
For this most recent visit, Janet and Dick were proud to welcome Sir Patrick again and share his wisdom with others. May we all have the energy and insight he enjoys after nearly a century of life!